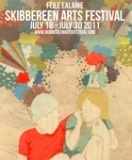 Here at the Skibbereen Credit Union we are proud to announce that we will be sponsoring the Skibbereen Arts Festival which takes place from July 18th to July 30th this year. The festival is shaping up to be one to remember as many musicians, comics, artists along with film industry experts come together to form what is arguably the greatest line up the festival has had to date and one that will cater for all ages and tastes!
On Friday the 29th of July, a night of laughter with comic Colin Murphy will take place in Skibbereens Town Hall.
As usual, the music line up at this years festival is very exciting. Following their fantastic success and popularity, the phenomenal Kilfenora Ceili Band will play at the West Cork Hotel on the 23rd. The Dublin Guitar Quartet comes to town on the 22nd of July. Another show not to be missed is the Gala Concert featuring Nollaig Casey and Arty McGlynn, Dermot Byrne and Floraine Blancke which is taking place on the 24th of July. Earlier on that day, renowned guitar player Arty McGlynn will also host a Guitar Workshop. Band members from Si Schroeder and 3epkano will assemble on the 27th of July to perform their live soundtrack to the film 'Pour la Suite du Monde.'
The festival also features various film screenings and workshops. Conor Horgan who has over 70 TV commercials and pop videos to his name, will host a Film Workshop on the 30th of July. The film he directed 'Wildfire Films', is just one of the many screenings to be shown across the fesitval.
Art exhibitions will take place throughout the festival including the 'Working Artist Studios.' This exciting exhibition consists of a collect of art-objects and drawings representing a period of time in a specific location, while also includes the activity and surrounds of Skibbereen.
Other acts include the Cronin Sisters, St. Fachtna's Silver Band, an Evening with Poet Paul Durcan, the work of Guillaume Beauron, The Travelling Sounds Library plus GAA Gold!
Best of luck to Brendan and the team from everyone here at the Skibbereen Credit Union!