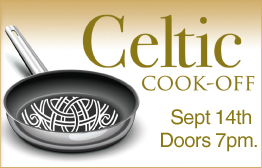 On September 14th the 'Celtic Cook off' will take place at the West Cork Hotel, Skibbereen.
Chefs from the five Celtic territories (Scotland, Isle of Man, Ireland, Cornwall, Wales & Brittany) will take part in a cooking competition. In the style of the TV show, 'Ready, Steady Cook', the chefs willl need to impress both you (the public) and the judges to win. This is sure to be a fun event for all to witness. Good luck to those taking part!
Where: The West Cork Hotel, Skibbereen.
When: Wednesday, September 14th.
Time: Doors open at 7pm.
Tickets: €10. (Available at the West Cork Hotel reception from Monday, August 22nd).

For more information take a look at the West Cork Hotels Blog.