The launch of the 142 registration plate lead to the biggest day in car sales in six years, according to SIMI (Society of the Irish Motor Industry). 4,264 were registered on the first day of 142 registration sales, compared to 1,924 cars on the first day of 132 registration sales.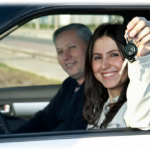 New car sales were up by 23% in the first half of the year, which is far more than was sold in all of 2013. Cork has seen a 27.5% increase in new car sales in the first six months of 2014 as compared worth the same time in 2013. It is expected that this trend will continue for the second half of the year.
There are many options for financing your new car. If you are considering buying a new car this year, why not borrow from Skibbereen Credit Union. We currently offer a New Car Loan with a rate of 5.99%, which is one of the cheapest rates in the marketplace to own your car. Come into one of our offices in Skibbereen, Schull or Drimoleague to talk to a member of staff, or call us on 028-21883. And don't forget, you can use our Loan Calculator to see your potential repayments or even apply for your loan online.